Fair-Played is the eleventh episode of Survivor: Cuba.
Challenges
Immunity Challenge: Touchy Subjects
The contestants must answer questions concerning their fellow castaways. They must submit two answers per question, one being their personal answer, and the other being what they think the tribe's consensus is, which may differ from their personal answer. If a player answers correctly, they score a point. The player with the most correct guesses wins immunity.
Winner: Taylor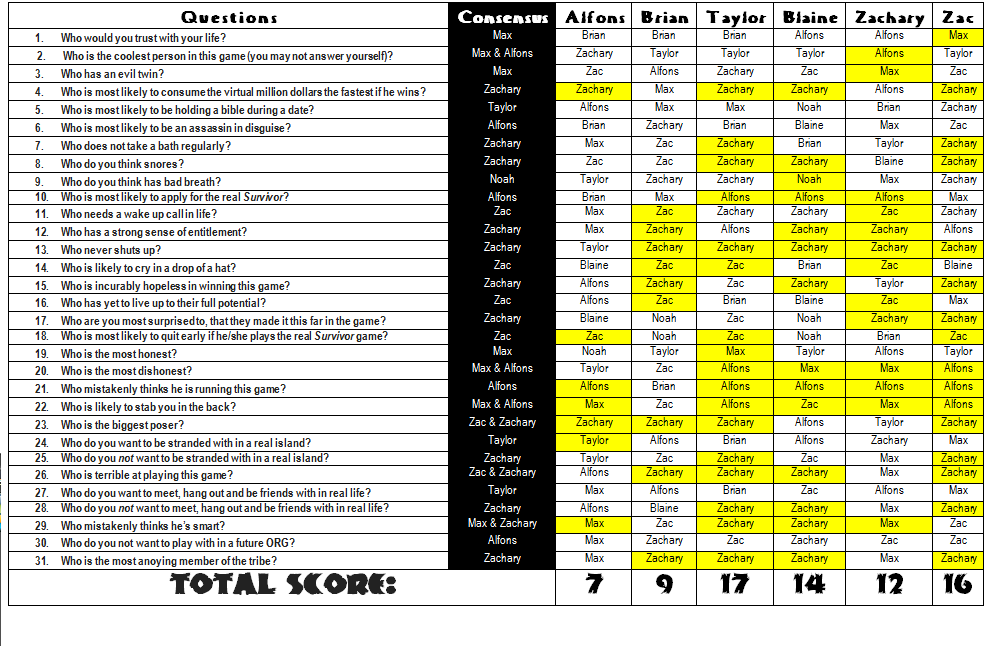 Story
Day 28
Taylor and Blaine were clearly on the outside and they felt nervous. However Brian, Max and Noah had told Taylor that they would flip, giving him and Blaine some hope for the next vote.
Day 29
Day 30
<p class="MsoNormal" style="margin-bottom:0cm;margin-bottom:.0001pt;tab-stops: right 16.0cm">At the next tribal council the alliance of Taylor, Blaine, Brian, Noah and Max agreed to split the vote between Alfons and Zachary in case of an idol being used. However Noah decided not to go through with the plan and stuck with Alfons, Zac and Zachary in voting for Blaine, voting him out 4-2-2
Tribal Council
Tribal Council 12:
Juntos
Voted
Against
Voter

Blaine (4 votes)

Alfons, Noah, Zac & Zachary

Alfons (2 votes)

Blaine & Brian

Zachary (2 votes)

Max & Taylor
VOTED OFF:

Blaine
Voting Confessionals
"
Alfons, I'm extremely disappointed in your gameplay. You've turned from strategic mastermind into somewhat of a dictator and that's something I don't think I can support. It's either going to be me or you, hopefully these people aren't complete idiots and vote for you.
"
<p style="font-size:smaller; text-align:right;">–Blaine
"
My vote is for Blaine. This game isn't going as planned. But this vote will.
"

–Noah
"
Zachary this is personal and strategic. Personally, you have annoyed me in this game and I'm over it. Strategically, I'm trying to take Alfons off his high pedestal. Hope this works.
"

–Taylor
Final Words
"
All I can say right now is that I'm really disappointed in some people. We gave them numerous chances to make big moves, but they just sat by and did nothing, like mindless sheep. Alfons, you've played a great game and out of the people left, aside from Taylor, you deserve the win that will soon come to you. Let me be the first to say congratulations!
"

–Blaine
Still in the Running
Havana

Max

Jeret

Jessica

Kesh

Liam

Luke

Random

Taylor

Tommy

Zac
Cardenas

Adam

Alfons

Brian

Blaine

DB

Kait

Noah

Sole

Yaniv

Zachary
Trivia
This is the last Tribal Council at which eventual winner, Alfons, was vulnerable to the vote.
References

This section is empty. You can help by adding to it.
External links